The Senior LIFE Paid Caregiver Option

The Paid Caregiver Option through Senior LIFE allows  you to choose your own caregiver and the services they provide so you can continue to live the  life you want.
By directing your  services, you have more flexibility to choose the  right supports for you, the Caregivers you want to work with, and a schedule that works best for YOU.
YOU receive the  services you want and need.
YOU choose the caregivers you want to work with.
YOU hire  and supervise your caregivers.
Whether it be a loved one, relative or friend, they can receive the necessary financial support needed to continue caring for YOU.
The Paid Caregiver Option offers the following:
Caregiver education
Counseling in coping skills
Assessments of caregiver and older relative's needs
Respite care
Home care services
Financial assistance
Transportation and coordination of all your loved ones doctors appointments
Coordination of benefits and healthcare coverage
An interdisciplinary team of medical professionals and care plan tailored to your loved ones individual needs.
Home adaptations
Contact Us to Learn More About The Paid Caregiver Option
Are you a caregiver?
Senior LIFE's Paid Caregiver option helps family caregivers so they can receive the financial support for caring for their aging loved one. We can help you manage the hidden costs of caregiving as well as support your caregiving efforts.
Caregivers can earn up to $1,375 a month*. Contact Us today to learn more.
*This is a benchmark of earning potential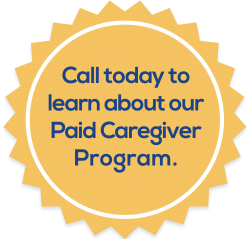 We care about caregivers too.
Whether it's a loved one, relative or a friend, we know providing care can be difficult. At Senior LIFE, we care about you too. That's why we provide the necessary healthcare and supportive services, as well as financial assistance, so your loved one can live in their home and not a nursing home.
How Does the Paid Caregiver Program Work?
The program starts with a planning process to help you figure out what supports are  most important to you and your everyday  health and wellness.
You can choose to direct  some or all of the  services that  help you:
Live in the  home and  community of your choice
Do activities you enjoy
Have relationships with family and  friends
Be healthy
What Can My Caregiver Do for Me?
Your Senior LIFE Home Care Coordinator can help you learn  about what service options exist for you, depending on your needs.
Caregiver Services available under the program include:
Grooming and  bathing
Toileting/Incontinent Care
Meal Prep
General Housekeeping
Laundry
And  more!
Is Participant-Direction Right For Me?
If you are eligible and enrolled in Senior LIFE, you may qualify for the Paid Caregiver Option.
This program may be right for you if you want:
More flexibility with your services and  schedule
To decide who provides services for you and  how they are performed
To take more responsibility for managing your services
Approximately 85% of people with dementia and chronic illness are cared for exclusively in their own homes. On average, their loved ones provide 12 hours of assistance a day. That can be difficult to juggle with work and other responsibilities, and it often takes an economic and physical toll. As a result, caregivers often report significant stress, depression, anxiety and fatigue. Learn how you can eat right, reduce stress, and feel better.
Every November is National Caregivers Month, and it provides the perfect opportunity to focus on the special needs of caregivers, and how we can as community can support them. Family caregivers often want to care for their loved ones all on their own. But in most cases, this just is not possible or realistic. Learn what you can do to do support your efforts as the family caregiver.
Caring for patients with dementia is not easy. Giving appropriate care to someone with this illness can be daunting. Some common issues caregivers face include wandering around, aggressiveness, and miscommunication, among others. However, ensuring their comfort will make your work easier. Mastering some details, therefore, will make sure that you and your patient are both comfortable. Thus, it'll be easy to fulfill their needs. Here is an outline of how one should handle dementia behavior.
Care to multiple generations has always been a struggle for families to manage, especially when trying to juggle work at the same time. The numbers since COVID are staggering. In 2020, 24% of caregivers were caring for multiple people, up from just 18% in 2015. What is even more telling is that 89% of caregivers are caring for direct relatives. Read on for some tips and tricks on how to manage compound caregiving.