Long-term care from home creates comfort, peace of mind for PA seniors
For aging seniors and their families, the decision of when and where to enroll loved ones in long-term care programs is a daunting and emotional process. It is also one that most everyone will be faced with at some point in their life.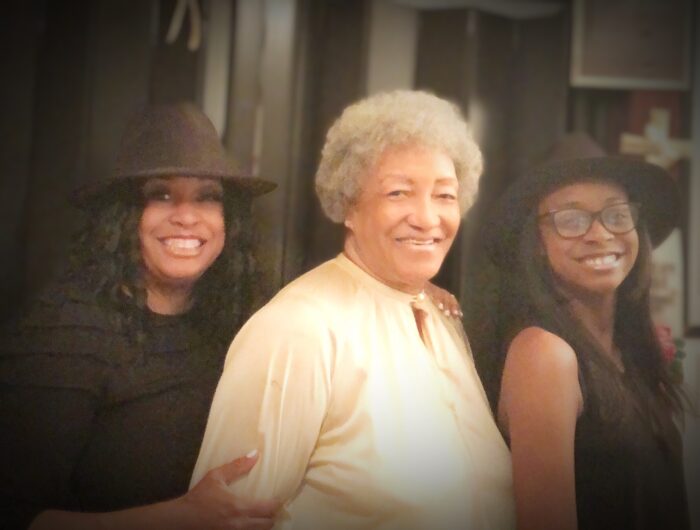 Bernice Greene (Center), her daughter Dyneco Gibson (Left) and Dyneco's daughter. Photo credit: Dyneco Gibson
Bernice Greene of Lehigh Valley is in her seventies. While she has always been an active participant in her own health care, she and her daughter, Dyneco Gibson, knew she would continually need more support in the years ahead – but the idea of enrolling Bernice in a long-term care facility just didn't sit right.
Extra challenges brought by the pandemic only made things more difficult; things like getting to and from doctor's appointments, picking up medications and taking them properly all carried new risks. As a retiree, Bernice no longer had access to the Blue Cross Blue Shield insurance coverage she had received in the past – and finding accessible quality health care was often overwhelming with a high potential for disappointment and wasted time.
Bernice and Dyneco began doing research on community programs that could provide Bernice with assistance when it came to her care – and that's when they heard from Senior LIFE.
"They called me," said Bernice. "They were so nice and took the time to help me enroll. It was clear from that first conversation that they actually care."
Individualized support that works
Bernice's appointed social worker, Julia McCormick, MSW, plays a significant role in coordinating the care strategy that Senior LIFE will implement to produce the best results – one that goes beyond just doctor's appointments and medication management. Plans commonly include counseling, physical therapy, and help with day-to-day tasks.
"The ultimate goal of our programming is to identify seniors who are nursing home eligible, but still independent enough to age in their home with the right kinds of interdisciplinary support," said McCormick. "We get that information from a variety of sources, but we're looking to find those individuals who might be struggling with medication costs, transportation to appointments, and even having access to regular meals.
At Senior LIFE, a majority of the participants' care (including specialist visits), are provided onsite at the LIFE Health and Wellness Center. This centralized model makes its hub an effective "one-stop shop" for all of Senior LIFE's services under one roof – creating less need for excessive travel, better use of resources, and the creation of a welcoming, familiar environment for its beneficiaries.
Dyneco, a resident of Coatesville, Pa., is the founder of a community development non-profit serving the state of PA and the mother of a school-age daughter. It was difficult for her to make daily trips, over an hour each way, to her mother's home and she didn't have the option to isolate herself throughout the entirety of the pandemic. When Bernice had a knee operation, Dyneco didn't feel comfortable risking either her mother's health or that of herself and her daughter, by making frequent trips to her mother's home – and knew they would need additional support during Bernice's recovery.
"They made daily trips – sometimes three a day – to my mother to make sure she was healing, able to get to the bathroom, and have clean clothes and food," said Dyneco. "It was truly above and beyond. It took such a weight off of me to know they were paying such close attention, and would call me if anything happened."
Intentional medication management
As for her medications, Bernice was faced with a plight shared by most seniors – the job of sorting and taking a large number of prescriptions, vitamins, and supplements, often multiple times each day. Some of her medications, which were critically necessary cardiac drugs, caused high levels of duress for both Bernice and her daughter, who lived with a low lying fear of mix-ups or skipped doses.
Senior LIFE introduced Bernice to a (potentially life-saving) medication adherence tool – adherence pouches, where all of her medications are pre-sorted into AM and PM doses for 28 day cycles. The instructions are clear and concise – and for non english-speaking users, translated into 22 languages. The medications are delivered to Bernice's home and placed directly in her hands, so as not to be intercepted or forgotten. Today, Bernice and her daughter can rest easy knowing she will not take too much – or not enough of any needed prescriptions.
Now more than ever, home is where the health is
The ability to receive quality health care and support in the home is an invaluable option for both beneficiaries and their families. Residential long-term care was already a challenging and costly environment – and the pandemic has only amplified the need to keep our loved ones out of high-risk care settings. PACE programs work diligently to provide Medicaid and oftentimes dually eligible patients with the care team required to age safely in place.
The result? Dramatically improved quality of life – better use of resources, and most importantly, peace of mind for both patients and their loved ones.
While not all seniors fit the mold for a PACE program, many do. Southwest Pennsylvania Medicaid recipients must choose a health care plan under the State's Community HealthChoices program. Senior LIFE Program of Pennsylvania is an alternative option for people 55 or older who meet medical eligibility requirements. They are a member of the National PACE Association, whose members serve more than 69,000 seniors across an increasing 30 U.S. states.
"I feel so blessed to have Senior LIFE in my life," said Bernice. "They actually care – and I can't believe they are real." Some of the highlights of Bernice's week are when she gets to meet with her Christian counselor, or sees her physical therapist, Jason, for appointments. "He is just so kind," she said. "I think the world of him."
Learn even more about Bernice and Dyneco's overwhelmingly positive experience with Senior LIFE of Pennsylvania in their interview with McKnight's Home Care.