Why Caring for the Caregiver Isn't Just a Catchphrase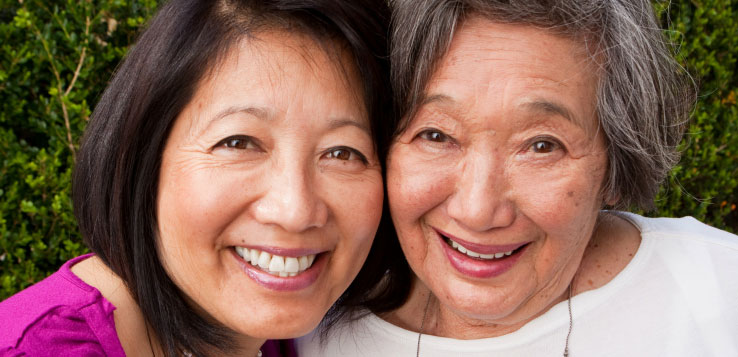 You may have help caring for your aging loved one's needs, but you're still a caregiver. And the only way to ensure you can give your loved one your best is to ensure you are at your best. That's why caring for the caregiver is so important.
Consider this: When you're on airplane and the flight attendant provides safety instructions, he or she tells you to put your oxygen mask over your own face first, then take care of others. While that's a very specific instance, the scenario plays out in life as well.
While you may be overwhelmed thinking of all the things on your to-do list and adding one more item seems impossible, it's important to add "taking care of yourself" to that list.
There are two main areas to emphasize when it comes to caring for the caregiver. Let's take a look at the essentials.
Caring for the Caregiver Essential: Time for You
Between work, taking care of your kids, and caregiving for your aging loved one, time is at a premium. You may not think you have any time to devote to yourself. That's precisely why it's so important.
How can you find the time for self-care? While you want to do as much yourself as you can for your loved one, you'll be more effective and helpful if you delegate some of the care.
Are there other family members who can take over some of the caregiving responsibilities? Are there neighbors who might like to sit with your loved one and visit for a half hour on occasion? It can be hard to ask for—and take—help, but it's a necessity.
Beyond those options, Senior LIFE can also help. Members enrolled in Senior LIFE have access to a variety of services as part of their individualized care plans. These services can include a number of features that are helpful to both the senior and the caregiver—including Adult Day Care, in-home services, nutritional services including meal preparation, medication delivery and management, and personal care services.
Utilizing these services will allow you some extra time to devote to yourself.
It may be tempting to fill that extra time with other responsibilities, but make sure to carve out a certain amount of time strictly for yourself each day. It doesn't really matter what you do during that time—it only matters that it's just for you.
Fill the time with reading, enjoying a bath, taking a walk, perusing the mall, or getting in a workout. You'll feel better—and be able to better help your loved one as a result.
Caring for the Caregiver Essential: Care for Your Own Health
This is along the same principle as our first essential for caregivers, but is a little more targeted. With a full plate of responsibilities, your own health may fall by the wayside.
Don't let it! Make a concerted effort to care for your health and wellness, in order to be at your best for your loved ones.
Regular checkups with a physician are essential for everyone's health, yours included. Your doctor can make suggestions for lifestyle changes that will benefit your health, as well as let you know what screenings and vaccinations you need based on your age.
Physical activity is another cornerstone of caring for your health. The key to exercising regularly is to find an activity that you truly enjoy. If your workout includes exercises you don't like, you will dread your workout.
Find an activity or two that get your blood pumping, and include them in your weekly schedule. Make appointments with yourself and don't skip them.
Your loved one's nutritional needs are taken care of through the Senior LIFE program. Now it's time to take care of your own. You will feel healthier and more balanced when you fill your plate with fruits and vegetables, lean proteins, whole grains, and low-fat dairy. Try to limit your intake of excess sugar, sodium and saturated fat.
Between all of your responsibilities, your stress level may be through the roof. Excessive stress can lead to serious health conditions, so it's important to take steps to moderate your stress. Regular exercise, meditation, and time to yourself are all ways to reduce stress.
One way of caring for the caregiver is to ask for help. Senior LIFE is here to provide medically necessary and support services designed to keep your loved one at home longer—and alleviate the stress on you as a caregiver. Visit www.seniorLIFEPA.com/locations to find the location nearest to you.

Categories: For the Caregiver