6 Ways to Help the Elderly at Home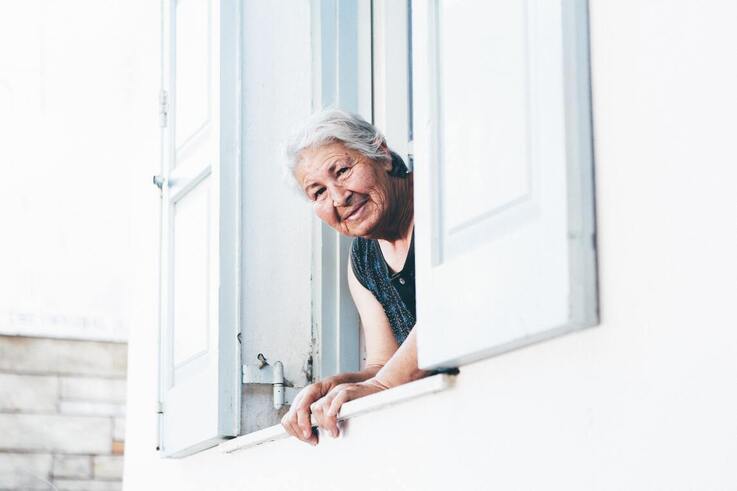 More and more, elderly family members, such as aging parents, are choosing to live independently for as long as possible. Mainly, this stems from their past—remember this is mostly the Greatest Generation who overcame the Great Depression and won a World War. Why wouldn't they consider themselves fully capable of handling the daily routine of living at home? 
And yet, many have endured diagnosis and treatment of serious illnesses or conditions that necessitate home care, medication management, or have left them with limited mobility. In order for them to continue living safely at home, some modifications may be necessary. These can range from the simple to more serious renovations. 
But who wouldn't want to do everything possible for family members who have given so much? Especially when it comes to dignity and freedom to live independently. Here are some tips for senior homes, on how to improve conditions for the family member who wants to stay at home for as long as possible, and out of a nursing facility.
Basic Concerns 
Begin with basic concerns that can be easily and quickly handled, even for little or no cost. These are things that may seem small but can make a huge difference in keeping your aging parents or family member safe at home. 
Remove throw rugs to eliminate trip and fall hazards. 
Clean up piled clutter, like shoes, books, newspapers, and other items. These are also trip and fall hazards. Perhaps a new bookshelf or table can provide a safe home for these items. 
Remove any extension cords that are stretched across the floor, especially in walking or traffic areas. 
Consider moving around furniture to create a more open environment. Try to eliminate tight spaces or turns, especially just through a doorway. 
Keep emergency numbers handy and ensure that your loved one can skillfully operate a cellphone. Watch them to be sure they know how to do it. Important numbers include: 

911
Emergency contacts (family members and friends)
Your senior's professional caregiving service
Your senior's healthcare provider office
Your local SeniorLIFE Center
Poison Control: 1-800-222-1222

Remove fire hazards in the home and install smoke and carbon monoxide detectors throughout every floor. Change the batteries in these at every seasonal time change. 
Replace frayed or damaged electrical cords to lamps or appliances, and reduce items plugged into power strips. 
Remove candles from the home. 
Discourage the use of space heaters. 
Most of these items can be accomplished in a single afternoon, and you will feel much better about your family member and their choice to live independently. 
Meaningful Renovations 
Some medical conditions or medical advice requires more involved changes to the home environment. Walker or wheelchair access, or other limited mobility issues, can necessitate the services of a professional carpenter or handyman. 
Ensure a Safe Bathroom
Most falls and scalding among older adults occur in the home bathroom. Here are some safety concerns to address and possibly modify: 
Set the thermostat on the water heater no higher than 120° F.
Put rubber mats in the bathtub to prevent slipping.
Place a special bathing chair in the tub/shower. 
Install grab bars in the shower and beside the toilet.
Install a hand-held shower head that can operate at numerous heights. 
Consider replacing the original bathtub with a walk-in model.
Replace the original toilet seat with a raised seat that features handlebars.
Install a nightlight in the bathroom, and along the route from the bedroom and living room.
Take a Look at the Bedroom
A number of potential risks lurk in the bedroom. Any time an older adult must sit, lay, or stand, the possibility for a fall is raised. Take the following precautions to increase safety in the bedroom. 
Replace a sagging, softer mattress with a firmer one for better support when getting out of bed. 
Fit the bedroom with a telescoping grab bar that extends between the floor and ceiling. This can be helpful when getting out of bed, too. 
Replace the round bedroom doorknob with a single-lever that is easily pushed down for sure exits. This is a good idea throughout the home. 
Consider the Lighting
Older adults and family members typically have trouble with vision, and better lighting throughout the home can help to prevent falls. This can demand remedies as simple as replacing all light bulbs with brighter and better-quality bulbs to replacing fixtures. Sometimes a motion-sensored option is ideal for seniors who may forget to turn on or off lights as they move through the house. This can save energy as well as provide safe lighting wherever it is needed. 
Visit the Kitchen
If your elderly family member will be preparing meals for him or herself, you can do some things to make it measurably easier and safer. First, place commonly used items at waist level or below. This includes pantry food items as well as cooking equipment. Nothing heavy or awkward should ever be placed in an overhead storage area. 
Contract a plumber to replace standard water faucet handles with lever-style handles for easier use. Many of these also come color-coded for hot and cold, which can also be helpful for seniors with mental health or memory issues. 
Remove any rugs or mats in or leading to the kitchen, as these can be trip and fall hazards. 
What About Stairs?
Double-level homes often have the bedrooms on an upstairs level, and this can pose a considerable challenge for seniors with limited mobility. Here are some suggestions to improve safety and usability: 
Ensure stairwell railings are completely secure. 
Provide adequate lighting from top to bottom. 
Differentiate between stair steps for greater visibility. 
Consider installing a stairlift. 
Helpful Technology 
While many older adults may be reluctant to embrace technology, some simple, yet innovative, options are available to help them stay safe and live independently. Here are a few popular choices: 
Digital medication management tools
Motion-sensored lighting 
Digital vitals/weight/movement monitoring 
Wearable medical alert systems 
Digital tablet video connection devices 
Smart Home monitoring systems (cams, medical monitoring, refrigerator, doorbell, etc.) 
Home security systems 
Many older adults want to live independently for the long term, or at least for as long as possible. These and other ideas can provide a safer environment for them, and peace of mind for you. 
The LIFE Program is a Medicare and Medicaid approved long-term care program that provides complete medical care and supportive services for persons 55 years and older so that they can remain living in their home. The LIFE Program is an alternative to nursing and personal care homes.
Senior LIFE is a Medicare Program of All-Inclusive Care for the Elderly (PACE) operating as a LIFE (Living Independence for the Elderly) program in the state of Pennsylvania.

Categories: Aging At Home