How To Entertain Elderly Parents During The Holiday Season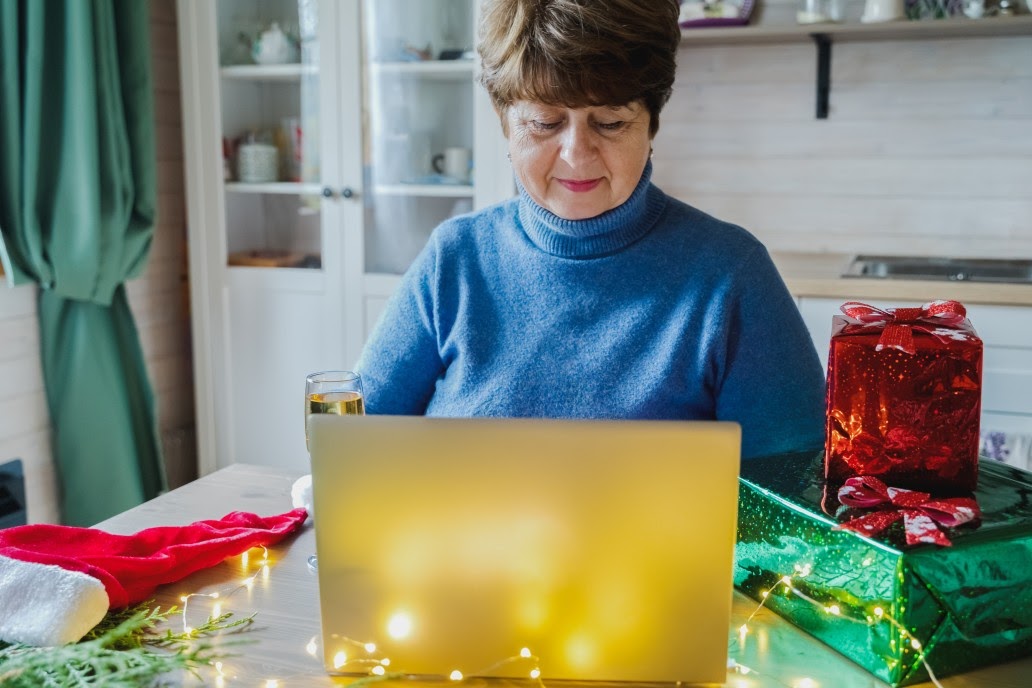 This holiday season is going to look different for each family. But just because we are in the midst of a pandemic, doesn't mean we can't still enjoy the holidays as families.
Some of us may be distanced, having dinners with only our households. Some of us may live around the corner from our family members. There are still so many ways to bring holiday cheer this year!
There are many ideas on how to entertain elderly parents during the holiday season so that we can all remain connected to one another, as well as limit the stress of social isolation.
Books
Reading is a great activity for older adults. It's stimulating and interesting, and can improve memory, sleep, and reduce stress.
There are so many ways to read these days. There is the classic physical book, magazine and newspaper. Books on tape are great for those with visual impairments. There are podcasts that tell stories, have interviews, and teach. Podcasts are always a great way to stay up to date with the news, plus come out weekly or monthly. They're fun to keep up with! And can be listened to while doing some chair yoga or taking a walk! 
Entertainment
This holiday season may be a little more restrictive than in the past. And being inside is the easiest way to stay safe! While watching the television all day isn't the healthiest of activities, a television program or movie here and there is a great way to engage with older people.
Maybe your aging parents are interested in learning more about cooking, television programs like the Food Network or the cooking section of Netflix could be interesting for them. Maybe inspire them to try new recipes, or learn about the places food comes from.
Take a trip from your home with travel programs, or take a step back in time with a historical drama.
If your family likes to attend religious or cultural gatherings, get them set up to stream those holiday services or find programs that allow them to participate in the festivities from the comforts of home. There are also musical programs online. Old operas are on Youtube, plays on Disney+.
TV offers various activities for seniors that are simultaneously safe and engaging. 
Exercise 
There are so many health benefits for seniors that come with exercise. Improved flexibility, stamina, balance, strength, but everyone's mobility is different. 
If your loved one isn't particularly mobile, try seated exercises like seated Tai-Chi or chair yoga. These activities will get your senior moving! If your loved one is mobile, gentle yoga is a fantastic activity to get moving. 
With respect to mobility, if you can, getting your loved ones outside is important! Spending time, even a little, in nature is a great mood booster. 
Get Creative 
Drawing, coloring, painting, are awesome ways to get creative. Maybe try watercoloring or filling in a coloring book, there are a range of ways to get creative to meet older people where they are physically and mentally. The other benefit of creativity is that these projects can be mobile or stationary, as interactive as someone may want, and safe!
If art isn't totally in the wheelhouse of your elderly family members, puzzles are a great time! Whether it's a crossword puzzle or a jigsaw puzzle, they are an engrossing activity anyone can participate in! 
Research has shown that creative activities can decrease negative feelings and increase positive ones, reduce stress, alleviate anxiety, and improve general well being.
Stay connected
The holidays bring families together, but with the pandemic entering into its third wave we have to be prepared to have our holidays look a little different for safety reasons this year.
Technology can help you be there when you can't. Cell phones and video chat bring family and friends together from afar to be together. Maybe write good old fashioned holiday greeting cards to ones you'd usually see during the holiday time.
Staying connected is important to everyone's mental health, but seniors are prone to loneliness and depression. Make video calls part of the holiday activities! Include them in the fun!
Be sure you're keeping in close contact with your senior loved ones. It will be a holiday gift to them to see their loved ones' faces.  
Try something new! 
As we are each quarantining, it's an ideal time to learn something new! Learning helps keep the mind active and increases senses of personal well being. 
Activities for people who like to use their hands are cooking, baking, knitting, crocheting, gardening. Maybe even learning an instrument! Activities for people that don't require too much movement are birdwatching and learning a language.
Trying something new can also be an opportunity for friends and family to participate! Maybe this looks like a book club or sharing what each of you made during the week. Because it's the holiday season, maybe these crafts can be holiday preparation like making snowflake decorations or decorating some cookies!
A different holiday season 
The holiday spirit is about sharing in the love of community, of family and friends. Taking care and showing love this year means thinking of safety first. There are so many activities to do together without being together, and activities that will keep seniors entertained, loved, and safe!
Senior LIFE is here to help during this difficult time by providing medically necessary in-home support services to senior members. Senior LIFE services may include medication home delivery, physicians and specialists, nursing care, physical, occupational and speech therapies, personal and home care, and more.
The LIFE Program is a Medicare and Medicaid approved long-term care program that provides complete medical care and supportive services for persons 55 years and older so that they can remain living in their home. The LIFE Program is an alternative to nursing and personal care homes.
Senior LIFE is a Medicare Program of All-Inclusive Care for the Elderly (PACE) operating as a LIFE (Living Independence for the Elderly) program in the state of Pennsylvania. 

Categories: Aging At Home, Family and Other, Life at Its Fullest, Wellness Matters