National PACE Month 2023 – Where You Belong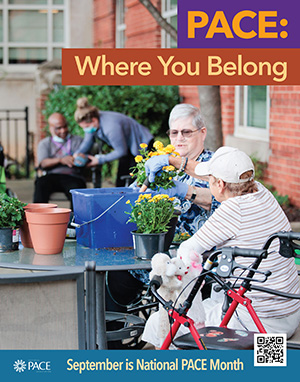 National PACE (Programs of All-inclusive Care for the Elderly) Month is an annual celebration in the United States that takes place in the month of September. This month-long event aims to raise awareness about the PACE program and the important role it plays in enhancing the lives of elderly individuals. Senior LIFE is a provider of the PACE program, called LIFE in Pennsylvania. The innovative model of care allows seniors with long-term care needs to remain living in their community for as long as possible, as independently as possible. More than 95 percent of PACE participants live outside of a nursing home.
The COVID-19 public health emergency taught everyone the value of community and the feeling of belonging. Loneliness and isolation have long been been issues for our seniors. This year, during National PACE Month, we celebrate the connections and communities that LIFE/PACE organizations can foster. This year's theme is "PACE: Where you Belong."
Understanding the PACE Program
The LIFE/PACE program is a comprehensive, community-based healthcare model for elderly adults who need long-term care services. It provides a range of medical and social services to seniors, helping them live independently in their own homes and communities. LIFE is designed to provide personalized and coordinated care that takes into account the unique needs of each individual.
The Goals of National PACE Month
National PACE Month serves several important goals:
Raising Awareness: The month-long celebration aims to increase public awareness about the existence and benefits of the PACE program. Many seniors and their families may not be familiar with this valuable resource, and National PACE Month seeks to change that.
Highlighting Success Stories: It provides an opportunity to showcase the success stories of PACE participants and the positive impact the program has on their lives. Sharing these stories helps inspire others to explore the possibilities offered by the PACE program.
Advocacy and Education: National PACE Month also serves as a platform for advocacy, education, and information sharing. It encourages discussions and exchanges about best practices, innovations, and policies related to senior care and the PACE program.
Getting Involved
Anyone can get involved in National PACE Month and help promote its goals. Here are a few ways to participate:
Spread the Word: Share information about the PACE program with friends, family, and your community. Use social media platforms to raise awareness and share success stories.
Attend Events: Participate in local events, workshops, and webinars organized by PACE programs or community organizations. Learn more about the program and the services it offers.
Volunteer: Consider volunteering at a PACE program or a local senior center. Your skills, time, and companionship can make a significant difference in the lives of seniors.
Advocate: Contact your local representatives and policymakers to advocate for the expansion and enhancement of the PACE program. Support legislation that promotes access to comprehensive care for elderly individuals.
Senior LIFE and National PACE Month
Senior LIFE will recognize PACE Month with a special week long celebration held at each of the LIFE Health and Wellness Center. The special week recognizes the efforts, volunteerism, and extraordinary talents of the Senior LIFE staff and members.
This year's event will be held September 5th – September 8th at each of the LIFE Health and Wellness Centers.
The annual week-long event will be filled with activities and events that will engage Senior LIFE with the local community. Past years' have featured events such as scavenger hunts, wheel chair races, and carnival days.
All activities will take part at the LIFE Health and Wellness Centers. At the center, members of the LIFE Program can see their Primary Care Physicians and participate in rehabilitation programs.
LIFE is a team-based model of care based on the idea of effectively and efficiently treating patients with multiple chronic conditions outside of the hospital setting.  The LIFE Program takes a comprehensive approach to care management: providers, homecare coordinators, transportation drivers, nurses, social workers, physical and occupational therapists, dietitians, recreational therapists, and others, who evaluate LIFE members and develop an individualized plan of care. Medical and supportive service services are provided with the intention of putting preventive support in place that sets seniors up to remain living in their homes long term, all at no cost to seniors on Medicaid who live in the community.
National PACE Month is an important opportunity to raise awareness about the PACE program and its impact on the lives of seniors. By coming together as a community, we can celebrate the successes, advocate for improvements, and ensure that the PACE program continues to provide exceptional care and support to our elderly population. Let's make National PACE Month 2023 a time of gratitude, recognition, and a catalyst for positive change in senior care.
To find out more about the LIFE Program, or to see if you qualify for the program, please contact us today!

Categories: Uncategorized