3 Tips for Aging in Place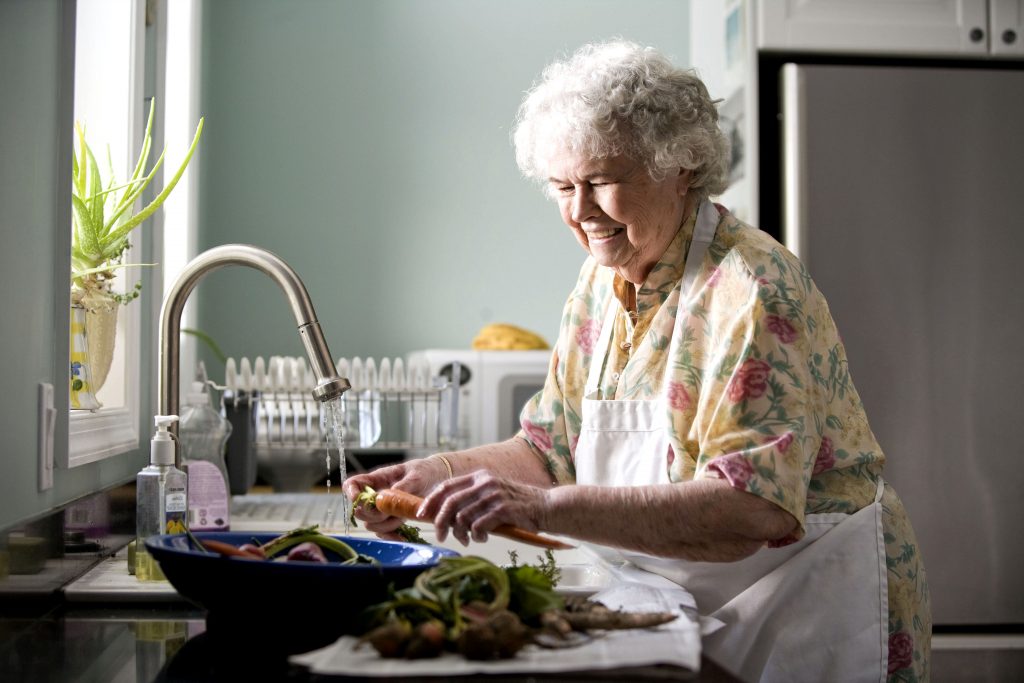 Most of us will spend our entire adult life creating and adapting a home that fits our lifestyles. Given the option, most seniors are choosing to age in place and die at home instead of in a hospital or senior living facility.Here are 3 tips for aging in place, and making your forever home just that.
Modifying Your Home for Aging in Place
One of the most important steps you can take to make your home friendly to the golden years is with home modifications. These modifications can be large structural changes (usually expensive!) or minor updates that require little investment both with your time and money. Here are some minor home modifications to consider for aging in place:
Remove Trip Hazards
One of the easiest modifications you can do is to remove trip hazards from your home. This includes removing throw rugs from high traffic area, rerouting wires for electronic devices so that they do not cross your path, and keeping hallways well-lit. For more details on the fall hazards lurking in your home – check out this blog post from the Senior LIFE Blog.
Install Assistive Device Where Needed
According to a 2011 report from the national Centers for Disease Control and Prevention, falls are most likely to occur in the bathroom – Think shower, toilet, sink. Theses are the best places to install grab bars in your home.
Lighting
You can't avoid what you can't see. That's why having multiple lighting options is so important for a senior living at home. Consider installing night lights that come on automatically when it is dark. Also, task lighting such as beside lamps and under-cabinet lighting can be extremely helpful for seniors.
Technology Can Help Keep You Home
Aging in place is becoming more accessible to seniors as technology becomes more user friendly. Technology for seniors has even become it's own industry, providing seniors with options like in-home security, life alert, and smart home features available to the masses.
Here are some technologies to consider for making your home the safest and best place for you as you age:
Video Conferencing
Socialization is increasingly important as we age. An easy way to stay in touch with loved one is with video conferencing. Most mobile devices offer video conferencing as a communication option.
Telemedicine
Most healthcare providers now offer some form of telecommunication that gives you instant and easy access to medical services.
Delivery Services and Immediate Delivery
Every market seems to now offer some form of delivery for their goods – be it delivery to your car when you pull up, like WalMart, or directly to your home, like with Amazon Instacart Delivery.
Apps for your phone
If you've mastered the use of a smartphone or tablet, there are so many apps you can use as a senior to help your everyday life – nutrition tracking, riding sharing, and medication reminder apps just to name a few
Smart Thermostats
There are so many smart home options available to the general public. One of the easiest and most cost-effective options is installing a smart thermostat to your home. Not only will it save you money in the long run, it can also help keep your home comfortable as the weather changes and shifts.
In-home Assistance Options For Aging In Place
You can do everything right to make all the appropriate physical changes to your home, but you also need to consider how to care for yourself while aging in place. There are a lot of things you can do to keep yourself in tiptop shape – from regular exercising to a good diet. But these options can only take you so far. Sometimes you need the help of outside medical and supportive services to keep you living at home.
There are a couple of options to consider when looking for in-home assistance:
In-Home Caregiver
You could consider an in-home caregiver that would help with household chores and hygiene assistance. This option can be pricey however depending on the level of help you need.
Home Health Nurse
When your healthcare needs are your main priority, you may want to enlist the help of a home health nurse who can visit you regularly at home. This licensed professional can treat many medical issues within the comfort of your home. Depending on your financial situation, there are many options available to you though many local agencies.
Keeping You Home and Out of a Nursing Facility with Senior LIFE
With Senior LIFE, our main goal is to keep you aging in place at home for as long as possible. The LIFE Program is a Medicare and Medicaid approved long-term care program that provides complete medical care and supportive services for persons 55 years. The LIFE Program is an alternative to nursing and personal care homes.
Senior LIFE Members receive care in the home and at the LIFE Health and Wellness Center located centrally in many local communities across the state of Pennsylvania. Services are customized to you and your medical needs, and may include physicians and specialists, nursing care, physical, occupational and speech therapies, personal and home care, medications, nutritional counseling, eye, dental and foot care, and much more.
Senior LIFE aims to be a "one stop shop" model of care. Most care is delivered during the day, but care is available 24 hours a day, 365 days a year.
There are no costs to enroll, no copays, and no deductibles for those who qualify for services.
To enroll in Senior LIFE, seniors must be 55 years or older, live in the service area, qualify for a nursing home level of care, and be able to live safely in the community. Applying is free, and there is no obligation to enroll. To learn more about the LIFE Program, or to see if it's the right fit for you and your loved ones, contact us today!
Senior LIFE is a Medicare Program of All-Inclusive Care for the Elderly (PACE) operating as a LIFE (Living Independence for the Elderly) program in the state of Pennsylvania.

Categories: Aging At Home