6 Healthy Breakfast Ideas for Seniors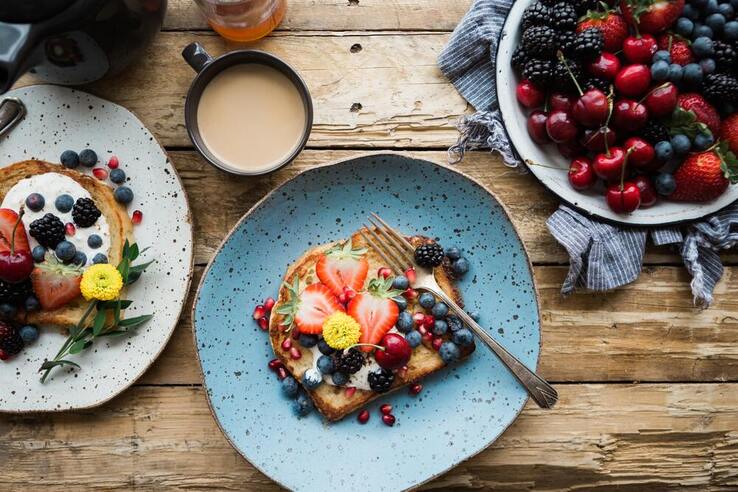 Breakfast is traditionally the most important meal of the day, and this can be particularly true for seniors who may have different nutritional needs or struggle after long nights without sustenance. Here are some interesting and healthy breakfast ideas for older adults that include many healthy foods. Professional caregivers and others will find these simple to make and a joy to serve. 
Eggs
Eggs are a natural source of protein, so they are great to help older adults feel full of energy to face the day. They are also chocked full of vitamin D, which is vital for calcium absorption, which, in turn, helps to prevent osteoporosis. For seniors who may have chewing difficulties, eggs are also easy to chew and digest. 
Egg Muffins
For an interesting and healthy breakfast idea, try mixing fresh vegetables like mushrooms, onions, tomatoes, and bell peppers into your egg mixture. Even better, add low-fat cheese and low-sodium sausage pieces. Pour this rich concoction into a cupcake pan and bake. The tasty ingredients are a great supply of calcium, protein, and other important vitamins and minerals. 
Fruit Smoothie
Make your own fresh fruit smoothie by mixing low-fat or skim milk with small chunks of pineapple and mango, then adding cottage cheese, almonds, and vanilla. Blend together until smooth, then chill. The health benefits of this tasty breakfast include 35 grams of protein, fiber, calcium, and vitamins A, B6, C, and D. 
Oatmeal 
Oatmeal is a healthy breakfast idea that offers a solid foundation on which to build plenty of variations, and it is a popular choice in many home care settings. Regular intake of oatmeal can provide fiber to help with digestive and bowel disorders, as well as a healthy storehouse of important vitamins and minerals. A single packet of instant oatmeal contains 4 grams of fiber, with homemade versions providing even more. Plus, it is an easily chewed and digested option for older adults who have eating difficulties. 
Fruity Oatmeal
Try mixing fresh fruit such as blueberries, blackberries, strawberries, bananas, and pineapple into oatmeal (all together or one fruit per serving). This adds a variation to flavor as well as vital antioxidants. Another great idea when mixing with fruit is to mix instant oatmeal with low-fat milk. The fruit adds natural sweetness and the milk adds a creamy smoothness. 
Apricot Cranberry Oatmeal
A fresh summertime healthy breakfast idea is to add dried apricots and cranberries along with extra water to oatmeal. Apricots provide vitamin A, iron, and potassium. The apricots and cranberries are rich sources of fiber, and they add natural sweetness to the dish. 
Fall-Flavored Oatmeal
For a Fall-flavored variation, add a few spoonfuls of canned pumpkin, low-fat or skim milk, and a dash of cinnamon, nutmeg, and vanilla. For even more variety, consider adding almonds, pecans, or walnuts and just a drizzle of maple syrup. The nuts and milk enhance the protein, and pumpkin is another great source of fiber, vitamins A and K, magnesium, and potassium. 
Whole-Grain Toast
This may seem a boring choice for a healthy breakfast, but it can be a great choice for some elderly adults. It provides fiber, iron, calcium, magnesium, and vitamin B. But don't stop at dry toast—spice things up by adding different toppings. 
Peanut butter
Smashed avocado 
Almond butter
Fresh fruit
Protein powder
Mashed or sliced banana
Lowfat Greek yogurt
Hummus
Olive oil
Cottage cheese 
Danish Toast
Here's a kicked-up healthy breakfast idea that is filling and nutritious. Toast whole-grain bread or a bagel, then spread with mashed avocado and top with diced cooked chicken and a slice of tomato. This variation adds more protein, vitamins, and minerals, and is very filling. 
Yogurt
Yogurt is a great healthy breakfast idea that provides probiotic bacteria that is important for seniors' nutrient digestion and absorption. This is especially beneficial for seniors with digestive disorders. Choose plain, sugar-free yogurt and sweeten it with honey, nuts, or fresh fruit. Avoid adding sugar. You can even mix in a spoon of protein powder for an extra boost if needed. 
Potatoes
Many older adults grew up eating classic breakfast foods, and it is actually a healthy choice if prepared in the right manner. Saute potatoes in olive oil and add tasty fresh vegetables. Potatoes contain more potassium than bananas, and a single potato has over one-quarter of the daily potassium every senior needs. 
Breakfast is vital to help seniors begin the day with the energy and nutritional support they need. But that doesn't mean it has to be boring. Every kind of food can be prepared and eaten for breakfast. What are some of your favorite healthy breakfast options that ensure your favorite senior eats healthy?
The LIFE Program is a Medicare and Medicaid approved long-term care program that provides complete medical care and supportive services for persons 55 years and older so that they can remain living in their homes. The LIFE Program is an alternative to nursing and personal care homes.
Senior LIFE is a Medicare Program of All-Inclusive Care for the Elderly (PACE) operating as a LIFE (Living Independence for the Elderly) program in the state of Pennsylvania.

Categories: Caregiver Resources