Meet Rosalyn – "PACE: This Is the Place…"
This September, we at Senior LIFE are celebrating National PACE Month!
During National PACE month, we invite interested families, and members of our local communities to visit our LIFE Health and Wellness Center to see firsthand why LIFE/PACE programs are the ideal option for keeping seniors independent in their own homes and cared for.  The theme for the month is "PACE: This Is the Place for Me."
As you get to know us, you will have the opportunity to meet many of our wonderful staff members.  One of those wonderful staff members is Rosalyn, a member assistant who we are so proud to have on our team!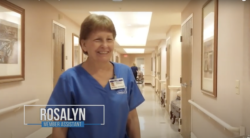 To learn more and schedule a visit of your nearest LIFE Health and Wellness Center, contact us today!
What Is  Senior LIFE and PACE?
Senior LIFE is a provider of the Program of All-Inclusive Care for the Elderly (PACE) called LIFE in Pennsylvania.
LIFE/PACE is a wholly integrated, coordinated, person-centered, provider-led, capitated and fully risk-bearing model of care. Driven by the objective of maintaining the independence of program participants in their homes and communities for as long as possible, LIFE/PACE programs are the lifelines that enable frail older Americans to live at home instead of in a nursing facility.
About the National PACE Association
The National PACE Association (NPA) works to advance the efforts of PACE programs, which coordinate and
provide preventive, primary, acute and long-term care services so older individuals can continue living in the
community. The PACE model of care is centered on the belief that it is better for the well-being of seniors with
chronic care needs and their families to be served in the community whenever possible.

Categories: Best in Class