6 Tips for Staying Active and Independent
We only get one body to live in, and it is important that we take care of it throughout our lives with regular exercise and healthy eating habits. As we age, it can become increasingly difficult to stick to a health routine that is safe and effective. Below are 6 tips for staying active and independent as a senior.
Get medical clearance
It's important before starting any new exercise routine or health routine that you speak with your doctor. Getting the green light from them prior to starting the new regimen will give you the confidence you need to know you are doing what is right for your body.
Adapt to age-related metabolic changes
It is natural for our bodies to change over time. Usually, as we age, our muscles and our metabolism decline in functional capacity. All this to say, as our bodies change, our nutritional needs change. Speaking with a nutritionist can help determine your personal nutritional needs and will help create a diet to help keep you active.
Incorporate exercise to reduce chronic illness
Once you've been given the "okay" by your doctor and a nutritionist to start a regimen, you'll need to develop a plan for staying active. Incorporating small bouts of exercise into every day can help reduce the likelihood of chronic illness and issues with high blood pressure.
Consider Physical Therapy
If you're experiencing pain or movement issues, it might be helpful to work with a physical therapist. Physical therapy can help get you moving, reduce symptoms and pain, and keep the problem from getting worse.
Try new activities for staying active and independent.
We all get stuck in a rut sometimes. When this happens, we need to try something new to get us excited about moving. Also, doing new things can reduce feelings sadness, depression and anxiety.
Try recreational activities with other seniors
Activities that are fun and involve other people can help increase cognitive function and enhance social skills. Games, sports, and social interaction can also help to reduce anxiety related illnesses, and reduce depression.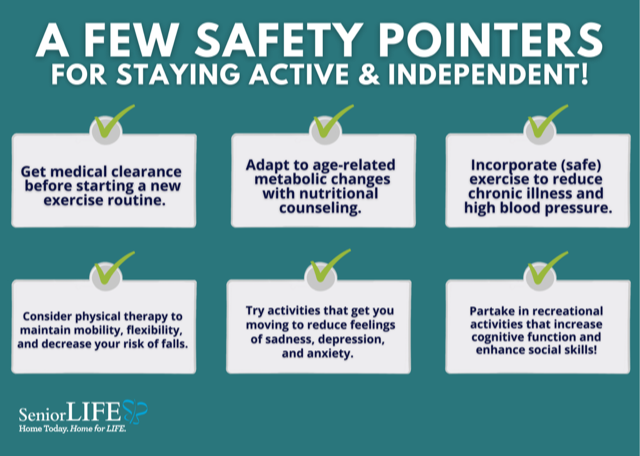 Senior LIFE – All-encompassing healthcare focused on you
Senior LIFE is an alternative to nursing home care that seeks to keep seniors living at home and in their community. As a Medicare and Medicaid funded program, eligible seniors pay no out-of-pocket costs for services.
Senior LIFE medical and supportive services are centered around each individual member's unique needs. The ability to receive quality health care and support in the home is an invaluable option for seniors and their families.
A Hub for All Your Needs – The LIFE Health and Wellness Center
At Senior LIFE, a majority of the participants' care (including specialist visits), are provided onsite at the LIFE Health and Wellness Center. This centralized model makes its hub an effective "one-stop shop" for all of Senior LIFE's services under one roof – creating less need for excessive travel, better use of resources, and the creation of a welcoming, familiar environment for members.
Your care, Your Choice
We also believe our members should have a say in their healthcare. The Paid Caregiver Option through Senior LIFE allows you to choose your own caregiver. Whether it be a loved one, relative or friend, they can receive the necessary financial support needed to continue caring for you.
Contact us today to learn more about how Senior LIFE can help you to stay active and independent.
See if you qualify for services at no cost to you!

Categories: Aging At Home, Health and Safety, Life at Its Fullest