National Senior Health & Wellness Day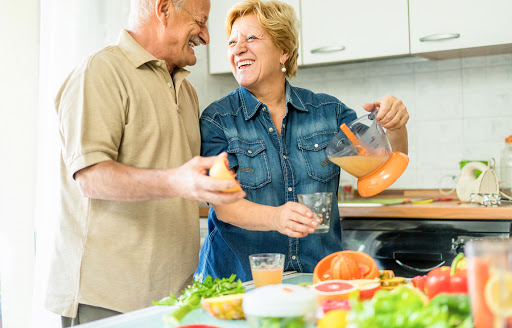 May 25 is National Senior Health & Wellness Day!
OK, we'll be honest. You probably are unable to do everything you could in your youth. However, most seniors can do something to maintain their health & fitness; often, more than you might think! As a part of Senior LIFE's missions, the program promotes safe, regular exercise for your mind, body, and spirit. Below are a few good reasons to get moving this summer, and how Senior LIFE can help you be more active and independent, all year long!
The Doctor is In!  The first step in starting any new exercise routine is to get medical clearance to make sure it is safe. Senior LIFE offers members access to a team of medical professionals, including a doctor, who can give you a green light to get moving!
Weightenance!  As we age, our metabolism naturally slows. A regular exercise routine, combined with a healthy eating game plan can help you attain and/or maintain a healthy weight. Nutritional Counseling is available to all Senior LIFE members who need it, which includes access to a registered dietician and dietary appropriate meals served on-site.
Disease Prevention. Seniors who exercise can reduce the impact of illness and chronic disease through improved immunity, the potential to lower blood pressure, improved bone density, among others. Senior LIFE Health and Wellness Centers, available to all members at no cost, offer access to Physical, Occupational, and Recreational Therapy equipment with certified therapists.
Keep Your Balance. One of the biggest dangers that seniors living at home face are fall risks. Senior LIFE physical therapists can design a program specific to you to enhance your mobility, flexibility, and balance to keep you upright.
Sleep Well. Many seniors suffer from the inability to get quality sleep which is vital to all aspects of life. Exercise can help you fall asleep faster, sleep more soundly, feel refreshed, and ready to meet the challenges of daily living in your home.
Just Feel Better! Let's face it. You are probably not going to enter an Olympic powerlifting contest or run a marathon, however, endorphins are powerful. Exercising under the supervision of Senior LIFE's staff can help your overall outlook, attitude, and reduce feelings of sadness, depression, or anxiety.
Improve Brain Function.  Senior LIFE offers recreational therapy services and activities through its Health & Wellness Centers that help members maintain or even improve their cognitive abilities as they age, as well as helping to prevent memory loss and enhancing social skills. Plus, it's fun! 
Senior LIFE is committed to helping seniors stay independent and living at home for as long as possible, and exercise and nutrition are a great way to start!  Find a Senior LIFE location near you and check your eligibility today at https://seniorlifepa.com/locations.
Senior LIFE – "Keeping Seniors in Their Homes.  It's What We Do."   

Categories: Life at Its Fullest, Wellness Matters