Homemade Gifts for Senior Citizens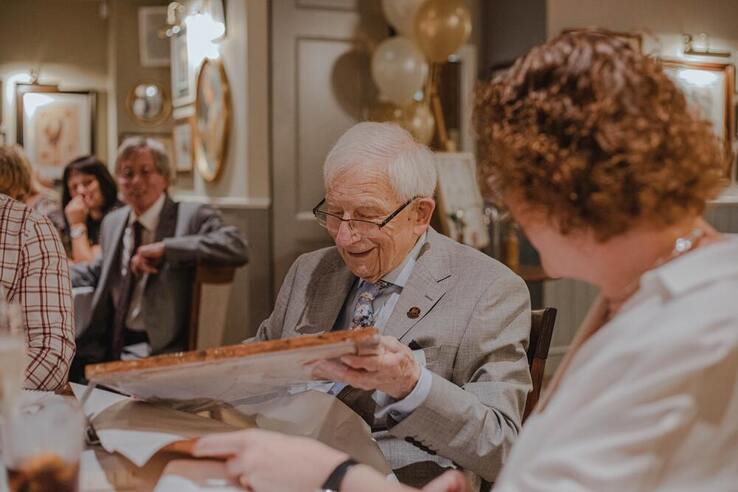 Seniors often have feelings of loneliness, especially when they cannot get out of the house. It's easy to brighten their day with a phone call or a little gift. Nothing says you care quite like great homemade gifts made with your own time and hands. Moreover, practical handmade gifts that will be used often by your special senior citizen can trigger memories of you and good times. 
When considering homemade gifts for a senior citizen, consider their location, circumstances, needs, background, and your relationship. Older adults living in a senior living facility or nursing home have limited space, so knick-knack gifts are usually not a great idea. Also, certain medical conditions may preclude some gift ideas, as they might pose a danger to the senior's health. 
Below are some simple DIY gifts almost anyone can make with just a bit of creativity and some free time. You don't have to be experienced at building crafts or sewing to create these gifts. In fact, with some guidance, elementary and/or middle school children could even make them, or at least assist in the process. 
Custom Address Book or Journal 
This great idea is a simple, customized journal or address book that opens to lay flat for easier writing and/or reading. No knitting or crocheting is required. You can decorate the outer cover to personalize it for the recipient, using photos, drawings, practically anything. Save that part for last, and focus first on collecting what you will need and constructing the actual book. 
Items You Will Need: 
Cardboard
Decorative paper or fabric 
Copy paper 
Glue
Awl or heavy-duty hole punch tool 
Wax thread or yarn 
Heavy sewing needle 
Instructions: 
Cut the cardboard to the size book cover you desire to create. A good hint is to fold regular copy paper in half, then create a cardboard cover (two pieces, a front and back) about a half-inch larger than the halved paper on all sides. 
Use decorative paper or even fabric to cover the cardboard for aesthetic appeal. Cut your cover material from three-quarters to one inch larger than the cardboard pieces, to allow for neat folding over and attaching with glue. You may even want to cut a smaller piece and glue to the inside of your cardboard cover to completely hide the cardboard, but this is not necessary. 
Next, align your cover pieces and copy paper after making the desired number of even half sheets. It usually works best to align one margin all together and allow the cover to overlap the paper on only three sides. 
With everything aligned, use an awl or hole punch tool to make a number of holes along the margin. These will be used to connect your book together. Make the smallest holes possible to avoid too much damage to the paper. 
With your large sewing needle and a very long piece of waxed thread or yarn, thread the sewing material through the bottom hole twice and tie a knot. Then, proceed to the next hole and loop the thread through it, then back through the first hole again. Then return to the second hold, loop the thread through again, and tie a knot. Repeat this process back and forth through each hole until you tie the knot at the last, or topmost, hole. 
Now decorate your homemade gift with appealing elements that make it personal to your senior loved one. Present it with a flourish, and perhaps a set of writing pens to encourage its use. If it is an address book, provide important addresses, phone numbers, and personal messages from loved ones. 
Sensory Blanket
This is more of a specialty gift, designed to provide comfort to senior citizens who suffer from Alzheimer's Disease or other sensory issues. It provides a soothing and stimulating activity for their restless hands while sitting or lying down. 
What you need: 
Strong sewing skills, and this project is much faster with a sewing machine. 
Decorations can be anything that is stimulating, yet simple, to touch and handle. Consider different items and textures, or even some things that may remind the senior citizen of their career or family. Suggestions can include, wool, strings, buttons, zippers, buckles, bells, various textures of fabric, small, soft toys, squishy and squeaky items, keyrings, or beads. 
Stiff stabilizer, fusible on both sides. – (suggested size – 1 piece 24 X 19 inches or 56 X 47 cm)
Fabric – 2 pieces (front and back) – (suggested size – 24 X 19 inches or 56 X 47 cm) 
Instructions: 
Place a piece of fabric on a table or flat surface facing right-side up. Lay the second piece of fabric, right-side down, over the first piece. Lay stabilizer on top of fabrics and sew three edges; leave the fourth side open for now. 
Turn the fabric layers inside out so that you now have a piece of stabilizer between two pieces of fabric. Now sew the fourth side. Iron well when finished to fuse these elements together. Now sew all the sides once more to strengthen the base unit.
Now you can decorate the mat with anything you choose, within reason. Think of what would be suitable for your particular senior. All decorations should be securely attached to the fabric to prevent choking hazards. 
Important note: loved ones with dementia should be supervised while using this gift. 
Handmade Walker Caddie
For loved ones using a walker, an often-expressed irritation is having no place to store items that are convenient to have nearby. Entertainment remotes, a book being read, eyeglasses, or the mail. While your hands are busy manipulating a walker, where or how do you hold these items? In a handmade gift of a walker caddie! 
What You Need: 
Two pieces of colorful or patterned fabric (suggested size – 18″ x 36″). Choose a heavy fabric for one piece, such as denim, canvas, or a heavy twill. 
Ties or ribbon (suggested length – 1 1/2 yards)
1/2 yard of sew-on velcro material 
Instructions: 
Place your sturdier piece of fabric wrong-side facing upward. Fold the two ends up to form the desired size pockets. These can be the same on each side, or different. Iron the folds to make a hard crease. Then, fold the fabric in half, right sides together, and iron that fold to make a hard crease. 
Cut the ribbon into four equal-length pieces. Lay the pressed fabric right-side facing upward and pin the ribbon ties beside the pocket folds. Now, pin the velcro about 3-4 inches to each side of the centerfold. Securely sew the velcro and ties to the fabric. 
Place your other, lighter piece of fabric right sides together with your tied/velcroed piece and sew around the edges, stopping with your needle down at the corners to turn and leaving an opening for your hand to turn this right side out.
Now, turn your walker caddy right side out. Iron the edges and sew a secure topstitch around all the edges. Be sure the hole you used to turn it right-side-out is closed. Fold the pockets back up and stitch down the sides, backstitching to reinforce the top edges of the pockets. Sew dividing lines on the pockets, backstitching at these top edges as well.
Attach the completed project to your senior citizen's walker with the velcro and ties. Your family member will be the envy of the nursing home or senior center! 
What are some other DIY gifts or handmade gift ideas you have used with success in the past? Share them with us in the comments! 
The LIFE Program is a Medicare and Medicaid approved long-term care program that provides complete medical care and supportive services for persons 55 years and older so that they can remain living in their homes. The LIFE Program is an alternative to nursing and personal care homes.
Senior LIFE is a Medicare Program of All-Inclusive Care for the Elderly (PACE) operating as a LIFE (Living Independence for the Elderly) program in the state of Pennsylvania. 

Categories: Caregiver Resources